Winter Hike 2020
Join us February 8 from 10-12 and hike the marked trails at the Norma Johnson Center. We will have 3 trails marked to help you along your adventure. Join us after your hike for hot chocolate and soup.
The Basic Loop (pink) – Enjoy a leisurely stroll around the pond and through the pine trees. The ground is mostly level and starts and end near the picnic shelter on Conservation Drive.
Vista View (blue) – Intermediate walk will take you up a steep incline to walk along the ridge for a spectacular sightline across the valley. The trail starts near the picnic shelter on Conservation Drive and ends near the kiosk near the restrooms on Conservation Drive.
Adventurous (orange) – Explore our network of wooded trails. Check out the wetlands and the suspension bridge. Some ups and downs but nothing too major.
This event is sponsored by United Way of Tuscarawas County.
Winter Hike
2020 Flyer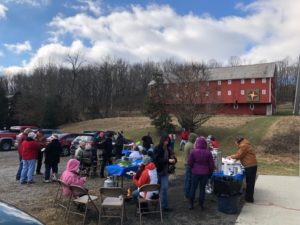 2019 meeting area
Conservation Drive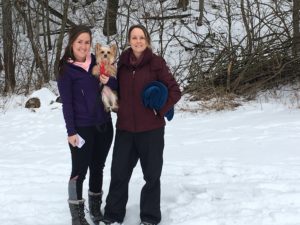 Hiking with Animals
2018